There's something kinda new that I've been wanting to do and, with any luck, I'll actually remember to update it. You see, there's just certain things - dog related, of course - that have spoiled me and that I really can't imagine not having anymore. Hence the "Things I Can't Live Without" series. I wanted something catchier, that I could make a nifty word out of, but I just couldn't think of anything. TICLWO/Ticlwo isn't so bad, right? Right? xD But anyways, onto the first thing!
My first review goes to the
Bamboo
company's
Quick Control Leash + Seat Belt Latch
. Simply put, I adore these things. What is it? It's a leash. An adjustable leash. With a seat belt latch. And its reflective. And it has a padded handle. And a pocket. And its
epic
.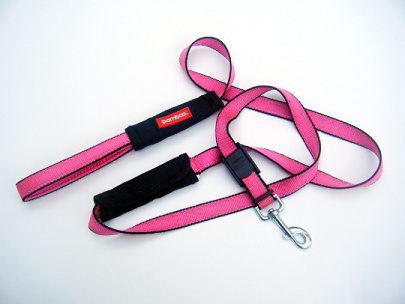 That's Miss Ava's leash in all of its hot pink glory. Its adjustable so you can shorten it for car rides to keep your pups in place, then lengthen it for walks. Or, if you're lazy like I am, you can stretch it all the way out at all times. According to the website, the six foot version spans from 66-78" while the three foot version only adjusts from 30-42" and would work well for keeping your dog right by your side in traffic and such. I prefer the longer leash, personally =] Ava's not totally leash trained (okay, well, she's a complete and utter puller), so a shorter leash might help with that, but I still prefer the long one.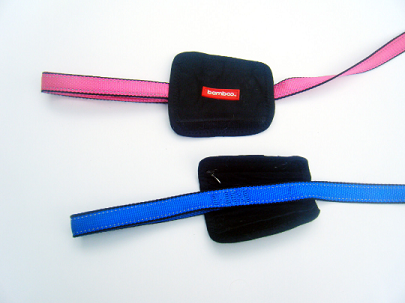 Speaking of pulling, there's the padded handle that I mentioned earlier. Its actually really quite awesome and very comfortable. Even when I'm walking Snickers, who thankfully doesn't pull, or when Ava isn't pulling, its still nice and squishily comfortable. Under the handle, there's a bit of Velcro that wraps around the leash and hides a decently sized zippered pocket. The pocket would be the perfect size for some keys, although my keyfob is too big for it since I have a few too many cute keychains on it...Anyways! Its also big enough to stuff some cash into, probably an ID card and/or credit card, although I've never tried it. Its very handy, really.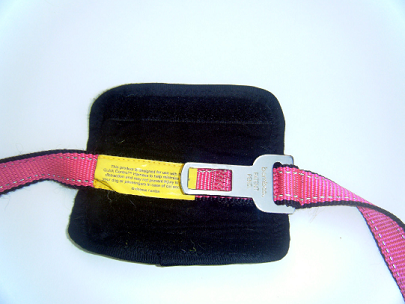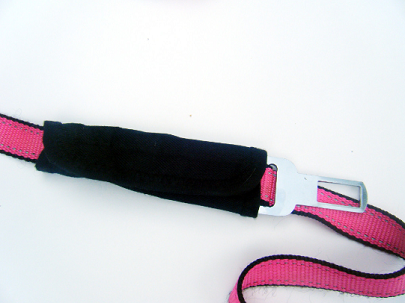 About halfway down the leash, there's another Velcro enclosure. This one covers the seatbelt latch, which is the most ingenious part of the leash. Simply crack open the Velco, fold out the buckle and snap it in place, then fold the Velco back into place when you're done. I've found that the Velco also makes for a good grip when you need to suddenly grab the leash and keep your pup closer. There's even instructions on a tag sewn into the little Velcro pouch so it really is totally idiot proof!
So, where can you buy them and how much does the sheer awesomeness cost you? Well, if you're near a Big Lots, you can probably find them for $5, like I did. I think they've been discontinued, or so
Jefferspet
says on their listing where the leashes cost $7.77 for a short one and $10.37 for the long one. You can also find them on
Amazon
for about $13 for the long one. Most places don't carry a blue one for some odd reason, so I actually went on Ebay and found Snick a brand new blue leash for $9.
So, to sum it all up -
{+}
seat belt keeps pups secured while your drive
{+}
handy pocket so you don't have to carry much with you
{+}
reflective for night walking (or when you lose it under the couch and have to use a flashlight to find it. Not that I've done it or anything...)
{+}
padded handle for comfort, especially with pullers
{+}
extreme durability and, so far, fray-resistant
{+}
reasonably priced
{+}
pretty colors @.@
{-}
can prove hard to find