This past Saturday was the local Walk and Wag, hosted by Little Victories. It was the 7th annual walk, I think, but it was the first one I'd ever been to. It was great!
Since most people won't have any clue what I'm talking about,
Little Victories
is the
only
no-kill animal rescue in my area and they've done so much both for animals and in the way of educating people. They're still fairly new, but earlier this year they began construction on a permanent shelter building on the land they bought a few years ago. Up until now, about 200 larger dogs and puppies have been living in outdoor kennels while all the cats and small dogs lived in various foster homes. Every year Little Victories puts on two walks to raise money and the Walk and Wag is the only one that you're supposed to bring pets to. The Walk and Wag is also the only event period for owners and pets to organize and enjoy each other's company. As you can tell, where I live, things aren't terribly pet-friendly.
But anyway! We all had so much fun with it. My dad went with me because its a bit tough to walk both Snickers and Ava at the same time, so he handled Ava while I handled Snickers. I was a bit worried about Snick because he tends to be shy around other dogs at first, but he was perfect! And Ava, of course, pulled and tugged on her leash to no end, but she still had fun. There was a beagle puppy that was quite taken with her and they played for about ten minutes, with her being her usual vocal self and attracting plenty of attention. It was great!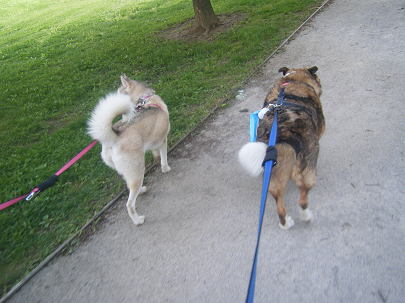 You've gotta love the way Snickers' poo bags are flapping in the breeze as he walks!
Towards the end, Snickers was so tired that he was trying to pull me to the car. Poor old guy.
And Ava was pulling, well, just because. As usual.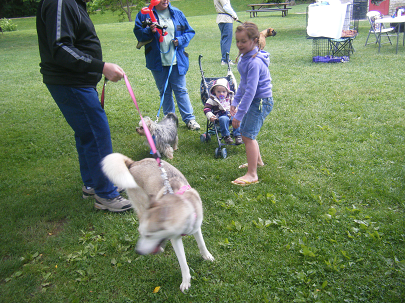 We met another Ava too! The little girl heard us telling Ava to sit for a picture and came over to announce that her little sister's name was Ava too. Ava was great with meeting her first toddler, until she spotted someone with treats in the opposite direction and the ADD took over!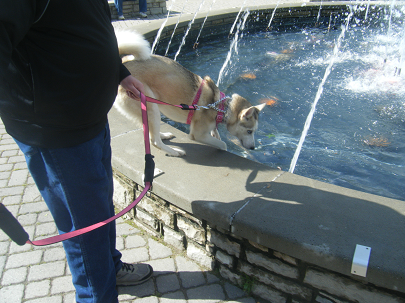 She then discovered the fountain. She wanted to swim
so
badly.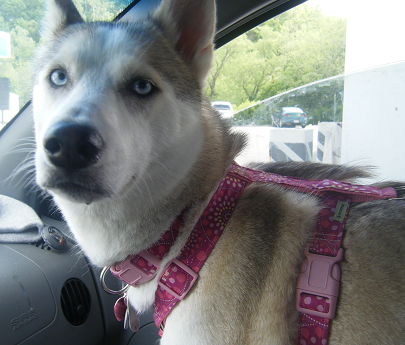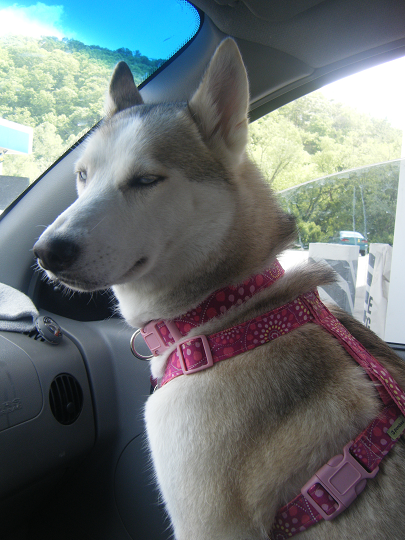 Here she is rocking her
3pooches
harness/collar/ID holder from Etsy. That thing is amazing! Its just so hard to get a decent picture of her because she really doesn't hold still long enough to snap a picture. I had to take a bunch to get one where she was both sitting still and looking at me, which is probably why she looks so pissed in the last one.